It will throw you off guard. It will make you think you have a chance at hitting it and just like that you take a giant swing and miss. You'll give the pitcher a look of disbelief and he''ll look back at you with the biggest grin one can make.
The origin of the knuckleball is pretty unclear but most have dated it back to Toad Ramsey of the Louisville Colonel of the old American Association. Others have dated the knuckleball back to Eddie Cicotte of the 1908 Chicago White Sox. Eddie was given the proper nickname of "knuckles" for his pitch that seemed to lack spin.
What makes the knuckleball so hard to hit is that a conventional pitch contains a natural spin of the ball when leaving the pitchers hand. When the ball doesn't have the conventional spin, it will move in an awkward path on the way to the catcher making it nearly impossible for the hitter to determine where the ball will end up.
For pitchers it is one of the hardest pitches to throw. That being said, it takes years to master the knuckleball and even then it can't really be perfected. Most of the time, a knuckleball pitcher will have only one or two pitches at most.
One of the best to ever throw the pitch is R.A. Dickey. He strictly became a knuckleball pitcher during the 2006 season while earning a spot on the Rangers rotation as the fifth starter. He was strictly a knuckleball pitcher. He struggled in his first couple games and was sent down to play in the Rangers Triple-A program. In January of 2007, he signed a deal with the Milwaukee minor league program and put together a 12-6 record with a 3.80 ERA.
R.A. Dickey and Steven Wright are the only known current Major League pitchers that are strictly knuckleball pitchers. That's not to say that other pitchers don't know how to throw the knuckleball. Rather than throwing it ever pitch, they may throw it a total of ten percent of their four or five pitches in their stock. Throwing it consistently can severely mess up your arm if you don't throw it correctly every single time.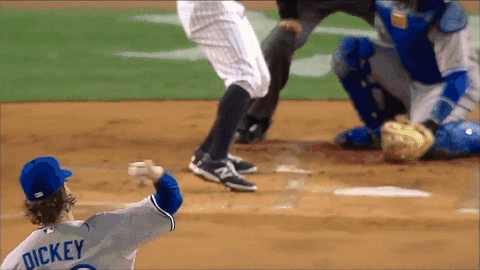 The pitch that can get anybody, Nobody is immune from looking like giant idiot when facing this pitch and that's just the way it is. You really can't say i'm going to work on batting against this pitch because its that inconsistent. The best you can do it stare it down, pray and hope you get even the slightest bit of wood on the ball.